Whether you have been wearing glasses or contacts for years or have recently found out that you need vision correction, you may be wondering, which is better, glasses or contacts? We have four reasons you should seriously consider glasses over contacts!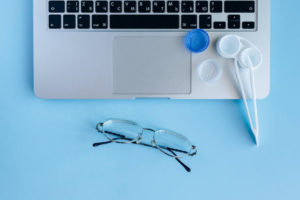 1. Glasses are better for your eye health
Contacts can cause numerous issues with your eyes. For one, you have to touch your eyes to put contacts in, and if your hands aren't clean enough, you could potentially cause bacteria to get into your eyes and result in an infection. With glasses, there is no need to constantly be touching your eyes, lowering your risk of an eye infection significantly. Secondly, glasses can add a layer of protection by shielding your eyes from debris. Debris can get trapped underneath contact lenses and scratch the eyes. One of our customers experienced this themselves. Their optometrist said that if the scratch had been any closer to their cornea, the scarring from it could have permanently blurred or obstructed their vision. 
2. Glasses are hassle-free
Glasses make everything from your morning to nighttime routine to even travel easier. You do not have to worry about the process of putting in and taking out your contacts or properly storing them every day. With glasses, there is no lugging around a contact case, solution, and extra lenses if one falls out or becomes damaged. 
3. Glasses are better for astigmatisms
When wearing contacts with astigmatism, your vision can become blurred if the contacts rotate in your eyes. Constantly adjusting your contacts to see more clearly can cause unneeded frustration. It also may take more time for your eyes to adjust to contacts with astigmatism. With glasses, the lenses are custom made to help with your astigmatism and remain stable on your face without the need for adjustment to see clearly. 
4. Glasses elevate your style
Make a fashion statement with your glasses. Choose sleek and modern frames, or choose some that are fun and bedazzled for days you feel daring! Whether you're shopping RACHEL Rachel Roy, Cremieux, Cruz, Jimmy Crystal NY, or one of our many designers, you can find frames that are undeniably you! 
You still may have days when contacts are needed, but overall, we recommend opting for glasses whenever possible. Plus, you don't want to miss all the fun you can have changing up your style! Peruse our website to find the frames that are right for you, and to learn more on how to choose the right frames, check out our blog 4 of Rachel Roy's Favorite Frames and Which is Best for Your Face Shape